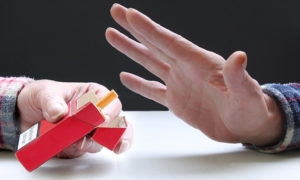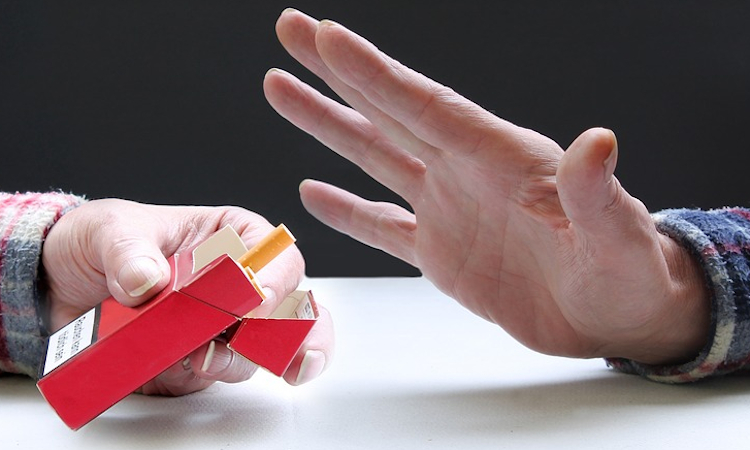 Nicotine and CBD are almost opposites in terms of public perception – the bad guy and the good guy of health and wellness – but could putting the two together make sense if it can help smokers break the habit?
Marrying the benefits of CBD to smoking-cessation products sounds like a no-brainer in terms of market appeal, but handling the regulatory challenges and public health concerns associated with nicotine products is no easy matter.
Some CBD firms that have tried have made false starts – while there are others who think it shouldn't even be tried.
In April Axim Biotechnologies announced the issuance of a notice of allowance for a patent from US authorities for a chewing-gum containing both CBD and nicotine. The company cited market forecasts that said by 2024 the smoking-cessation market could hit $21.8bn. Other undisclosed cannabinoids would be included in the gum under the proposal.
By the end of the month, Axim was no longer moving forward with the product. A spokeswoman for the company declined to comment further.
Caught up in legal action
Just a month later, CV Sciences announced it had received a notice of patent issuance for a CBD/nicotine product to help with smoking cessation and treat smokeless tobacco addiction. That company is currently caught up in derivatives lawsuits brought by its shareholders over statements it has made about the patents. CV Sciences did not respond to TobaccoIntelligence's request for comment on the status of its plans.
Other companies are avoiding nicotine and trying to pitch new products for the same market. Taat Lifestyle & Wellness recently announced no-tobacco, no-nicotine cigarettes with 50 g of CBD to help replicate the experience of smoking a cigarette for smokers who want to quit.
Azim Chowdhury, a partner at Keller & Heckman's Washington DC office, said any company seeking to introduce a CBD/nicotine product could face the full weight of the US Food and Drug Administration (FDA)'s scrutiny for traditional nicotine products.
"Anything that contains tobacco-derived materials could fall within the meaning of a tobacco product under the Food, Drug, and Cosmetic Act," Chowdhury explained. "If something was a CBD product that was mixed with a tobacco-derived product, then the question is, 'Is it a tobacco product, and therefore subject to the premarket authorisation requirements that apply to all new tobacco products?"
FDA warning letters
Chowdhury mentioned that even an Arizona company manufacturing nicotine-infused toothpicks received FDA warning letters related to traditional tobacco product regulations.
"If someone is mixing CBD with nicotine or something else and they want to go market with a health claim about some therapeutic benefit like smoking cessation, no matter what, they are going to have to go through the drug approval process to make that claim," Chowdhury said.
Some in the CBD industry believe nicotine is the last thing the market needs, even if it's intended to help addicted smokers quit.
"CBD is rooted in so much good, to attach it to something with so much negativity, I just don't see any reason for that," said Jason Mitchell, co-founder and co-CEO of HempFusion.
"The spirit of it seems good – but as much as I admire the thought that goes into this, I find it irresponsible. Nicotine is a very addictive chemical. You have to ask yourself how ethical that is. You're literally trying to create a body of users. That's the Philip Morris model."
Swapping cartridges
Mitchell also cited concerns about a lack of research into addictiveness of the proposed products, and said rather than combining them, perhaps companies could use CBD products alone to help smokers quit.
That proposal is closer in spirit to the one being investigated for potential investment right now by CBDCapitalGroup, according to its CEO, David Metzler.
"We are in the preliminary stages of possibly purchasing a company that sells monthly vaping subscription refills and will be getting those nicotine users to swap out nicotine cartridges with CBD cartridges, and rewarding them via financial incentives and game-mechanics for using CBD instead of nicotine," Metzler told TobaccoIntelligence.
"It is a harm reduction strategy that we used when I worked with insurance companies like Aetna and UnitedHealthCare, helping solve similar addiction issues."
What This Means: CBD products may in the long run end up being used in some form to help smokers quit. But it's still anyone's guess which companies will get there first and what approach to the market will actually score with customers – and regulators.
No clear scientific or market research indicates whether cannabinoid/nicotine formulations or alternating CBD with nicotine would be more efficacious, or more successful as CBD's big step into the world of smoking cessation.
– TobaccoIntelligence contributing writer
Photo: Gundula Vogel