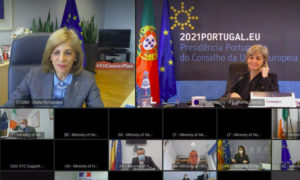 As European health ministers met via Zoom today to discuss implementation of the EU's wide-ranging new Beating Cancer Plan, one of the most influential organisations promoting harm reduction has pleaded for a rethink of its attitude toward alternative nicotine products.
The World Vapers' Alliance (WVA), which represents around 13,000 individuals and 23 partner organisations, is opposed to the Cancer Plan's proposal to equate tobacco alternatives with smoking – a shift away from harm reduction which the plan envisages leading to flavour bans and taxation "at similar levels to cigarettes".
In an open letter to the EU's health ministers, the WVA said "the plan shuts the door for smokers trying to quit using novel tobacco products…by picking abstentionism over harm reduction".
WVA director Michael Landl told TobaccoIntelligence the Cancer Plan as it stands would lead to "disastrous consequences" for public health, sending many ex-smokers back to the habit. 
"Health ministers should understand that the measures the [European] Commission proposes are going to harm the health of citizens," he said. "We believe it will be their duty to acknowledge and signal to the EU that this plan falls short."
Critical time ahead
The Cancer Plan, unveiled in February, aims to bring down Europe-wide smoking prevalence to 5% by 2040, from a current 25%. Targeting combustibles as well as new nicotine products, it proposes tax increases, hikes in minimum excise duty, harmonised taxes on novel tobacco products, further controls on online marketing, and improved enforcement by member states in areas such as sales to minors and the encouragement of smoking cessation.
After approval by the full European Parliament – which could vote on it in October at the earliest, although a delay is widely expected – it is likely to influence the next incarnation of the EU's Tobacco Products Directive (TPD). The coming few months are therefore critical in determining the final shape of the plan, with its stringent approach to novel nicotine products already coming under fire from some MEPs.
Strong action also has supporters, though. While many ministers did not mention tobacco control at all, implying that they don't see it as a prime element in the plan, Netherlands health minister Paul Blokhuis made tobacco control the most prominent element of his short speech, saying that "novel and emerging tobacco products are to be included" in new measures.
Meanwhile, supporters of tobacco alternatives in the UK are this week also striving to be heard by government as the deadline approaches for comments on tobacco legislation. Submissions on a review of the Tobacco and Related Products Regulations 2016 and the Standardised Packaging of Tobacco Products Regulations 2015 must be made by this Friday, 19th March.
– Barnaby Page TobaccoIntelligence staff