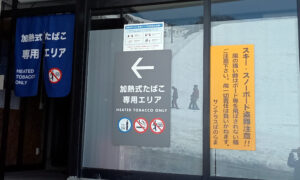 A growing number of leisure facilities in Japan are going smoke-free by allowing only heated tobacco products to be used, or establishing dedicated areas for them, in response to the stricter rules on smoking indoors brought in by the country's Health Promotion Act.
Hakuba Happo-one, one of Japan's largest and most popular ski resorts, banned regular cigarettes from its slopes when it opened for the season in December, but allowed the use of heat-not-burn (HnB) products, with six dedicated areas.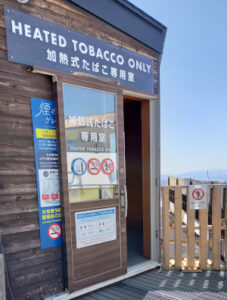 "We decided we wanted smoke-free slopes. As well as aiming for a cleaner environment, the other problem was people throwing away butts after they had smoked, though that can still be a problem with heated products," Hakuba Happo-one's Hideki Akimoto told TobaccoIntelligence.
The company has a division for so-called Sustainable Development Goals (SDGs), a United Nations programme that includes various global challenges including the reduction of harm caused by smoking.
The reaction from skiers and snowboarders has been largely positive, according to Akimoto, though he admitted there had been some complaints from cigarette smokers and a few cases of people ignoring the ban.
Karaoke in tune
Two smoking areas have been retained just outside the resort, which hosted a number of events at the 1998 Nagano Winter Olympics. "We want to stop people being impacted by second-hand smoke," said Akimoto.
The resort and neighbouring Hakuba Iwatake collaborated with Philip Morris Japan (PMJ) to promote their "smoke-free slopes" initiative.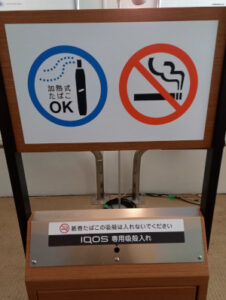 The Health Promotion Act allows the option of designating separate areas so that those who use heated tobacco are not exposed to cigarette smoke.
Karaoke parlours are also following the trend. Big Echo, the largest karaoke chain in Japan, has set up HnB-only floors at 70 of its outlets, also in collaboration with PMJ.
Another chain, Karaoke Kan, has done the same in 80 of its venues in partnership with Japan Tobacco (JT).
"More and more people are using HnB so there's a growing demand for it, though we can't do it at every one of our shops because it's not possible to divide some of them into separate floors," a Karaoke Kan spokesperson told TobaccoIntelligence.
And football plays too
Pachinko halls, home to pinball-like slot machine gambling games, which operate in a legal grey area, were once famous for their smoky atmosphere, but are now mostly smoke-free. A growing number have HnB-only sections, with nearly 1,000 such halls listed on the Pachi-Moku website, which provides information on where pachinko players can smoke.
A new pachinko hall, opened a few months ago in Tomakomai on the northern Japanese island of Hokkaido by Maruhan, an entertainment conglomerate that owns more than 300 halls, has divided its 1,100 machines evenly between a non-smoking area and an HnB-only area.
Though there is no official signage for HnB areas, many leisure facilities are using images of Iqos or Ploom-like devices surrounded by blue circles or squares.
Football club Shimizu S-Pulse, which plays in the J-League's top tier, made its 20,000-seater stadium smoke-free from its first home game of the season in March, with four HnB-only areas set up just outside the venue.
"We are the first J-League club to adopt the SDGs, so as part of that we are aiming to eliminate second-hand smoke around the stadium," S-Pulse spokesperson Satoshi Kuroda told TobaccoIntelligence.
The club has retained one smoking area near the stadium and another in a car park a few hundred metres away.
What This Means: The rising popularity of tobacco-alternative products in Japan makes this a good time for businesses to move towards designated smoke-free areas.
Recent data released by the Tobacco Institute of Japan (TIOJ) showed that Japanese cigarette sales in fiscal year 2020 fell below 100bn units for the first time in decades.
Meanwhile, sales of heated tobacco consumables hit 41.3bn. According to the TIOJ, the increase on the previous year is due to a rise in HnB use during the Covid-19 lockdown and the fact that users preferred not to smoke at home.
– Gavin Blair TobaccoIntelligence contributing writer
Photos: Hakuba Happo-one Snow Resort