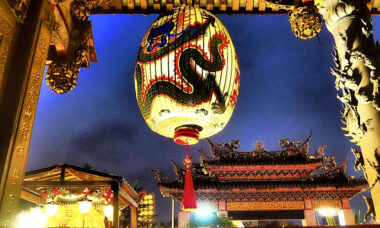 A new blanket ban in Taiwan's capital on the sale and import of tobacco-alternative products is heavy-handed and nonsensical, an expert at the city's medical university says.
Taipei City has recently become the latest addition to a list of ten counties or regions in the island state – officially known as the Republic of China – to ban the production, import, sale, supply, display and advertising of heated tobacco and vaping products, as well as their use products in non-smoking areas or within 50 m of a school.
Mayor Ko Wen-je, chairman of the Taiwan People's Party, defended the new rules, saying that heated tobacco products have unknown risks without international regulation and that there was not enough evidence to support the notion that e-cigarettes are effective in helping smokers quit.
But according to Kai-jen Chuang of the Taipei Medical University Department of Public Health, the shortage of scientific evidence should have prompted more research rather than a complete ban.
"The government should regulate these products only when there is enough research, because people have a right to choose," professor Chuang told TobaccoIntelligence. "Certainly, you can educate them on what is right and wrong, and what is dangerous. But if they are adults, they should be able to distinguish that."
Black market warning
While the new law is potentially effective in preventing under-age use of tobacco alternatives, Chuang believes the ban is too harsh and "does not make sense".
"If cigarettes and [alternatives] are both harmful to our health, why are the alternatives taking all the brunt of it?" he asked. "If both are categorised as tobacco products and are only allowed in smoking areas for cigarettes, these products should be regulated as traditional cigarettes. It's just unfair to both users and business."
In Taiwan, people can smoke traditional cigarettes in designated areas, and the production, import, sale and advertising of such products are allowed.
The ban is also likely to spur the already growing demand for underground sales, according to vaping product trader Wu. The 48-year-old Taiwanese, who has been importing e-cigarettes from countries such the US and the UK for the last five years, warned that the price of black market products was usually higher than that of their legal counterparts.
"If the demand is getting higher, illegal trade will just keep growing," he said. "Can you really stop it?"
What This Means: The big question is whether the latest developments at regional and local level will have any impact on the proposal to amend the national Tobacco Hazards Prevention Act that is currently being discussed in Taiwan's Legislative Yuan.
Chuang said regional laws could be bring pressure on the Legislative Yuan to eventually pass national regulation, but he believes the government should first offer a clear product categorisation of e-cigarettes and heated tobacco products. "Are these products cigarettes? Or are they medical products? The ambiguity is a huge issue that the authorities need to tackle," he said.
The future of a national bill to regulate alternative tobacco products in Taiwan remains murky, but experts expect the trend of local governments passing new regulations to continue.
– Chermaine Lee TobaccoIntelligence contributing writer
Photo: Jan McNally-Trainor