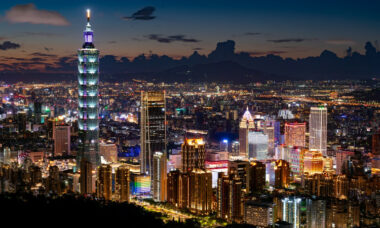 The most populous city in Taiwan has recently joined eight regions in the country in implementing new legislation restricting the use and sale of e-cigarettes and heated tobacco products.
New Taipei City, with more than 4m inhabitants, has enforced a new law that sets a complete ban on people under 18 using and possessing e-cigarettes and heated tobacco products.
The new rules, adopted with the aim of protecting the under-age population, also prohibit the use of e-cigarettes in areas such as schools, museums, government and medical buildings, outdoor sports grounds or public transportation.
The regulations establish fines of up to TWD10,000 ($360) for those who violate any of the provisions. Anyone selling tobacco-alternative products to under-18s or pregnant women are set to pay a maximum of TWD100,000 ($3,600).
Chiayi County, Chiayi City, Hsinchu County, Hsinchu City, Taichung City, Kaoshiang City and Taoyuan City have already enforced their respective versions in recent months. Among them, Hsinchu County has implemented a blanket ban on the use of e-cigarettes, including by adults and in all venues.
Taipei City, Changhua County and Tainan City are discussing relevant bills in their respective councils.
Easier use
Cheng-chung Lo, professor at the Graduate Institute of Financial and Economic Law at the Southern Taiwan University of Science and Technology, told TobaccoIntelligence that the new regional laws mostly want to target under-age users.
"Teenagers tend to use e-cigarettes and heated tobacco products more, because traditional cigarettes are more expensive due to tax. Heated tobacco products also allow more flexibility for users, so they are easier for under-age people to form a smoking habit," says Lo.
A survey from the Taiwanese government last year revealed that the rate of e-cigarette use in middle school students rose from 1.98% in 2014 to 2.5% in 2019, while in high school students it rose from 2.1% to 5.6% in the same period.
Earlier in May, the national parliament (Legislative Yuan) started considering an amendment bill of the current tobacco control law that seeks to expand its coverage to e-cigarettes. However, there has been no progress so far, and Lo calls the chance of it passing in the Yuan "slim".
"Many people in Taiwan are smokers, so legislators risk losing lots of voters for advocating this bill. So I am not optimistic that there's any chance for this amendment bill to pass in Yuan before the end of 2024 [the next Legislative Yuan and presidential elections in Taiwan]," he added.
What This Means: In the future, Lo foresees a path on the self-ruled island towards more stringent measures against e-cigarettes and heated tobacco products, based on how regional governments are enforcing new limits on their the sale and use.
At the same time, he has urged the government to add more designated smoking areas in both indoor and outdoor areas, as well as public transportation, out of respect for smokers' rights.
– Chermaine Lee TobaccoIntelligence contributing writer
Photo: Timo Volz