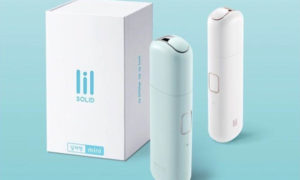 Check out all our complete coverage and analysis of the Russian market and regulatory landscape here.
KT&G heated tobacco products are available outside South Korea for the first time after Philip Morris International (PMI) this week began marketing them in Russia.
KT&G's Lil Solid device and Fiit consumables went on sale on Monday in IQOS stores, indirect retail locations and through e-commerce.
"An assortment of accessories will also be available at IQOS boutiques and on IQOS.com," a PMI spokesperson told TobaccoIntelligence.
The retail price for the device is set at RUB2,690 ($36.75) in IQOS stores and online. The consumables are priced at RUB130 ($1.78) per pack.
"We are excited to enter into the next phase of our agreement with KT&G. The commercialisation of KT&G's products outside of South Korea will complement our already strong smoke-free portfolio, providing adult smokers with an even broader range of taste, price and technology options," PMI CEO André Calantzopoulos said.
Other markets under consideration
The Swiss-based company said other markets were being considered to further expand the commercialisation of KT&G products. TobaccoIntelligence understands this does not include the U.S.
In January, PMI sealed a three-year commercial agreement to sell KT&G products in different markets.
KT&G, a former state monopoly and the largest tobacco company in South Korea, launched its heated tobacco device in 2017 with the aim of offering a cheaper product than most of its rivals.
A recent campaign by the South Korean government to discourage the use of tobacco products has affected the sector in the country. The latest official figures show a decrease of 5.3% in the sale of heated tobacco consumables in the country in the first six months of 2020.
What This Means: PMI seems to be on a safe bet by starting the roll-out of KT&G's heated tobacco products in Russia, complementing its own existing smokeless portfolio in the country.
PMI's HeatSticks are performing well in Eastern Europe and the company said market share in Russia for the IQOS consumables was 5.9% in the second quarter of 2020, up 3% against the same period of 2019.
– David Palacios TobaccoIntelligence staff