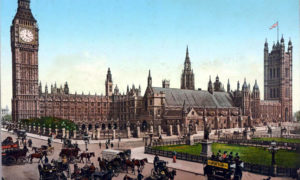 Britain has an "incredible opportunity to spread the word" that appropriate regulation of tobacco alternatives saves lives, members of the UK Parliament in Westminster heard.
John Dunne, director-general of the UK Vaping Industry Association (UKVIA), told an all-party parliamentary group (APPG) the UK could lead the cause of harm reduction "on the world stage" at the ninth Conference of the Parties (COP9) to the World Health Organization Framework Convention on Tobacco Control (WHO FCTC) in the Netherlands in November.
"A robust, evidence-based approach from the UK can defend the gains we have made domestically, empower positive change internationally and confirm Britain's role as a world leader in harm reduction," Dunne told an APPG hearing yesterday.
He called on MPs not to be complacent about the UK's record on harm reduction and warned that regressive, prohibition-style strategies, which are still alive and well internationally, could undo all that has been achieved so far.
The APPG is conducting an inquiry into how COP9 may affect domestic legislation, particularly on smoking cessation and the UK's 2030 "smoke-free" target.
The group is analysing the previous meeting, COP8, which took place in Geneva in 2018, the objectives around reduced-risk products, and what new proposals are forthcoming. It is also looking into transparency and accountability of COP9, how the agenda is set, and whether countries are consulted appropriately.
WHO's dim view of heated tobacco
"The hope is that the UK delegation to COP9 will press the UK's case to other parties and seek to positively influence parties to adopt a more progressive and beneficial stance from a public health and consumer perspective towards vaping," an APPG spokesperson told TobaccoIntelligence.
The International Network of Nicotine Consumer Organisations (INNCO) told the APPG inquiry of its concerns about the FCTC and its treatment of lower-risk nicotine products.
In its submission, the INNCO accused the WHO of refusing to recognise the principle of harm reduction.
The UK-based organisation also called for a definition of "commercial marketing" and suggested the WHO should develop guidelines on how to accurately convey information within limitations of display. The WHO Group on Tobacco Product Regulation recently suggested that all advertising and all public use of heated tobacco systems should be banned by governments.
It also said heat-not-burn (HnB) should be subject to the most rigorous level of existing tobacco regulation.
What This Means: The purpose of the ongoing parliamentary inquiry is to collect evidence and then produce a report, which will be sent to the health minister and the government's COP9 delegation with recommendations on the approach the UK should take to the global conference.
TobaccoIntelligence has learned that the APPG will launch a second inquiry later in the year into the potential legislative changes the UK government can make on vaping, now that the country has left the EU.
– Antonia di Lorenzo TobaccoIntelligence contributing writer
Photo: Public domain