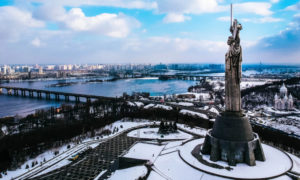 Law enforcement officials in Ukraine have raised concerns over a sharp increase in sales of counterfeit heated tobacco products from China, in what is thought to be an "inevitable" consequence of the new tax scheme that came into force in January.
Since the tax was imposed the Ukrainian market has been flooded with Chinese-made heat-not-burn (HnB) products sold in small kiosks and grocery stores across the country.
Valery Vorotin, a tobacco trade expert for the Verkhovna Rada, the Ukrainian parliament, has described the situation as being like Chicago in the 1920s, "the time of bootlegging".
Vorotin wrote in a local media outlet that counterfeit devices had been seen on the shelves of roadside kiosks in Bila Tserkva, about 50 south of Ukraine's capital, Kyiv.
He reported that tobacco sticks of the MC brand, compatible with Iqos, lacking the compulsory excise stamps, were on sale at a price of around UAH 50 ($1.78). According to the packaging, the sticks were made by Hongta Tobacco Group under the authority of Yunnan Tobacco International, based in Kunming, China.
Progressive yearly increase
Authorities also found the same sticks in five flavours (mint, tiramisu, blueberry, Virginia, and oriental/classic) being offered in bulk for $705 per crate of 500 packs, coming to around $1.40 per pack, online and via the messaging app Telegram.
News agency Unian reported that Chinese HnB products had been seen on sale at UAH 52 ($1.86) spotted in the Zaporozhye and Dnepropetrovsk regions in eastern Ukraine.
Experts believe the appearance of such smuggled goods on the Ukrainian market, which had previously only seen smuggling of traditional cigarettes, is a result of the hike in excise tax for heated tobacco products.
Law 466-IX establishes a progressive yearly increase in the heated tobacco tax. From 1st January 2021 the tax rate stands at UAH 1,456.33 ($52) per 1,000 pieces; it is set to rise incrementally each year until 2025.
The price of some of the most popular HnB consumables has risen this year from UAH 53 ($1.89) to over UAH 80 ($2.86).
Black market threat
Furthermore, the difference in prices of heated tobacco consumables between Ukraine and its neighbours Moldova, Belarus and Russia has opened up the market to counterfeit products.
Institutions including the National Academy of Sciences of Ukraine and the tobacco industry itself proposed to the government a gradual increase in taxes rather than an abrupt one.
British American Tobacco (BAT), manufacturer of the Glo heated tobacco system, said the tax rise was "inevitably" leading to an increase in illegal trade.
Philip Morris International (PMI), the company behind Iqos, estimates that the Ukrainian black market could cut the trade in legal HnB products by 50% and that many customers will switch back to smoking traditional cigarettes.
PMI has guaranteed to collect at least UAH 4.8bn ($171m) in excise tax from Iqos in 2021 and UAH 8.1bn ($289m) next year.
What This Means: The tobacco industry is hoping to resume dialogue with officials in Kyiv to try to make some changes in the current tax plan for heated tobacco in Ukraine.
But excise duties are not the only challenge for the industry. The Verkhovna Rada is this week discussing Bill 4358, which seeks to introduce regulation similar to the EU Tobacco Products Directive (TPD) for e-cigarettes and HnB products.
At the beginning of March the parliament will also give a first reading to Bill 4212, which seeks to regulate advertising of e-cigarettes and e-liquids.
– Ksenia Kondratieva TobaccoIntelligence contributing writer
Photo: Denys Rodionenko