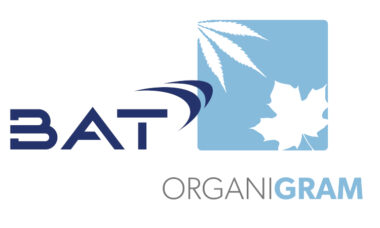 Like many tobacco firms, British American Tobacco (BAT) has shifted its business model as smoking rates continue to decline and consumers seek alternatives, and it has publicly declared its interest in "new category products". Now, following this logic, BAT has invested a further CAD6.3m (USD5.03m) in the Canadian cannabis company Organigram, thereby increasing its stake from 18.8% to 19.5%.
This latest investment comes a year after the tobacco giant's previous investment of CAD221m (USD176m), when it formed a product development collaboration (PDC) with the cannabis firm.
BAT's initial March 2021 investment translated into a stake of almost 20% in Organigram, but since then the cannabis firm has strengthened its position in the Canadian market and expanded its portfolio via cash/share acquisitions – including that of Quebec-based cannabis producer Laurentian Organic and cannabinoid biosynthesis firm Hyasynth Biologicals – which has resulted in a slight dilution of BAT's overall stake in its share equity.
"As we think about our portfolio for the future, certainly beyond-nicotine products are interesting for us as another wave of future growth," BAT's chief marketing officer Kingsley Wheaton told BBC Radio 4's Today programme. He confirmed that BAT saw cannabis-related products as part of its future growth.
The firm launched its first pilot CBD vaping product Vuse CBD Zone in Manchester, England in January 2021.
Innovation the cornerstone
Organigram's PDC with BAT will initially focus on developing CBD products. A centre of excellence will be established at Organigram's facility in New Brunswick that will focus on developing next-generation cannabis products.
Organigram has a stake in cannabinoid biosynthesis, which could be of future interest to BAT, as the process is a more efficient and lucrative way of producing cannabinoids than extracting them from the cannabis plant and is being increasingly used for minor cannabinoids, which occur at very low levels in the plant.
"Innovation is an important cornerstone of Organigram's core strategy and the PDC underscores our commitment to the development of disruptive, consumer-focused cannabis products," said Organigram CEO Beena Goldberg. "We're pleased with the successful launch of the PDC and the progress we are making so far."
The terms of the collaboration allow the two firms both to sell products under their own brands.
BAT is not the only tobacco company to have purchased a stake in the cannabis industry. Philip Morris International (PMI) reportedly purchased a patent for a genetically modified cannabis plant in 2018. The firm has also invested $20m in an Israeli company, Syqe Medical, which makes cannabis inhalers.
Tobacco firms have also been supporting lobbying on cannabinoid-related measures.
It's clear that the industry heavyweights are seeing the potential of the cannabis industry, which Irwin Simon, CEO of the international pharmaceutical cannabis company Tilray, has likened to that of the alcohol business before the ending of Prohibition in the US in the early 1930s. "This is very much similar to the alcohol industry when Prohibition started. This is the next big industry," he said.
What This Means: As consumers turn away from tobacco products, tobacco manufacturers are seeking profit-making opportunities elsewhere. And the cannabis industry appears to be a likely candidate since it has become more mainstream.
The tobacco firms face competition from alcohol and pharmaceutical companies, which are also seeing big opportunities in cannabis, as indicated by their investment in lobbying for their preferred version of legalisation.British American Tobacco (BAT) has invested a further CAD6.3m (USD5.03m) in the Canadian cannabis company Organigram, thereby increasing its stake from 18.8% to 19.5%
It's clear that there are profits to be made in cannabis and related products such as CBD. What isn't clear is who will be making them in the future.
– Lorraine Mullaney TobaccoIntelligence staff