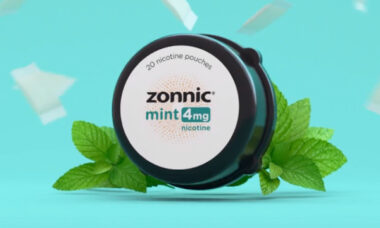 Health Canada has approved the first nicotine pouch authorised for sale in Canada as an over-the-counter cessation aid – a move some anti-smoking advocates say could open the door to other nicotine pouches hitting the market.
British American Tobacco (BAT) subsidiary Nicoventures Trading received approval last month to sell its Zonnic line of products as a nicotine replacement therapy for over-18s to help them stop smoking.
The pouches, which contain 4 mg of nicotine, were approved under Canada's Natural Health Products Regulations. Any greater nicotine content would mean they were regulated as a prescription drug under the country's Food and Drug Regulations.
Health Canada spokesperson Anne Génie said the Zonnic products were the first nicotine pouches to be approved for sale in Canada.
"To date, Health Canada has only licensed one nicotine pouch; however, other submissions are currently under review," Génier said. She did not reveal which companies had submitted pouches for approval.
Simon Evans, group media relations manager for Imperial Brands, said the company was planning to expand into nicotine pouches in the US but had no plans to enter the Canadian market.
'No coherent strategy'
The Zonnic approval comes less than three years after Health Canada issued a public warning about the use of nicotine pouches and the fact that they were not authorised for sale in Canada.
That advice has been updated, with a statement that authorised products have been evaluated by Health Canada for "safety, efficacy and quality" but that the warning still applies to unauthorised products.
BAT told TobaccoIntelligence that Zonnic pouches were part of its "commitment to reducing the health impact of its business" and would be available in six flavours.
However, Cynthia Callard, executive director of Physicians for a Smoke-Free Canada, said Health Canada's decision to approve the Zonnic pouches highlighted "vulnerabilities" in the government regulations surrounding nicotine products. "I think it just points to the absence in Canada of a coherent nicotine strategy," she said.
Because the Zonnic pouches were approved under the natural health product rules, they won't be covered by the rules that apply to tobacco products or products with higher levels of nicotine, Callard said.
"The rules that will govern the marketing of these products are not designed to prevent people from starting to use nicotine by using them. They're not designed to protect youth from inducements to use them, as the Tobacco and Vaping Products Act is set up to do. They're not designed to protect people from addiction or harm, the way the Consumer Product Safety Act is intended to do."
Grey market fear
Callard pointed out that the pouches won't face bans on lifestyle promotion, on where advertising can be placed, on incentives to retailers, or on giving away the product for free. "A lot of the measures that we have put in place for other nicotine products won't apply," she said.
She is also concerned that approving the Zonnic pouches will open the door to other nicotine pouches. She said Health Canada told anti-smoking groups there had been "a couple of dozen" applications for other nicotine pouch products. A number were unsuccessful because they failed to convince Health Canada officials that their product would be effective in smoking cessation.
"Now that BAT has demonstrated efficacy, my speculation is that other people who make pouches just need to show that their pouches are functionally equivalent to the ones that have been licensed," Callard said.
She is also concerned that the Zonnic approval will fuel a grey market and prompt some companies to illegally sell pouches that contain more than 4 mg of nicotine.
Physicians for a Smoke-Free Canada is calling on provincial governments across the country to adopt new rules to govern nicotine pouches approved under the natural health products rules to prevent sales to young people, to restrict in-store promotion, and to prevent the offering of incentives to retailers and product giveaways.
– Elizabeth Thompson TobaccoIntelligence contributing writer