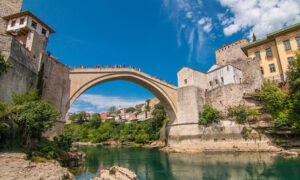 Bosnia and Herzegovina has passed a bill that will harmonise the country's tobacco regulation with the provisions of the EU Tobacco Products Directive (TPD) and establish a regulatory framework for tobacco alternatives.
The House of Representatives (Predstavnički Dom) adopted the Bill on the Control of Tobacco and Other Products for Smoking by an overwhelming majority of 63 votes to three, with two abstentions.
The bill regulates heated tobacco as novel tobacco products and bans tobacco for oral use, except for chewing tobacco.
Online and vending-machine sales of tobacco products will be prohibited. The products may be visibly displayed on shelves, but not in a way that enables customers to reach them – they may, for example, be kept behind the counter.
Sales of tobacco products will be banned within 100 m of schools and kindergartens.
Direct and indirect advertising and promotion will be prohibited. This includes free sampling, internet advertising, financing of public events, individuals or groups, etc.
Health warnings
Tobacco products will have to carry one of two health warnings covering 35% of the two largest surfaces of their packaging. The messages will be: "This product contains nicotine, which causes strong addiction. It is not recommended for non-smokers"; and "This product contains nicotine, which causes strong addiction".
The bill bans the use of all tobacco products, except snuff and chewing tobacco, in enclosed public places and in private vehicles in the presence of under-18s. Individuals who fail to comply with this measure will face a €50 fine.
Producers and importers of e-cigarettes must notify the Ministry of Health six months before the product is placed on the market, as in the current EU regulations.
Among other information, the notification will contain a detailed description of the new product, its content and emissions, as well as a manual explaining how it should be used. In addition, producers and importers should report to the ministry by 31st March every year on the content of their products.
What This Means: Although not an EU member, Bosnia and Herzegovina has decided to harmonise its tobacco regulation with European standards.
Before the new regulations take effect, they must be approved by the House of Peoples (Dom Naroda), the upper house of the Parliamentary Assembly.
– Marija Obradovic TobaccoIntelligence staff
Photo: Nenad Maric