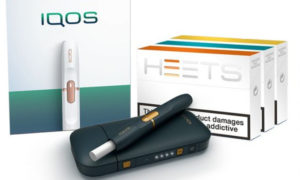 Philip Morris International (PMI) is braced for a significant dip in sales and use of its heated-tobacco device IQOS over the rest of 2020 due to the COVID-19 pandemic, with retail and travel restrictions currently imposed in nearly every country.
The Big Tobacco company, which presented its results for the first quarter of 2020 yesterday, reported only a marginal impact from the current public health crisis in the first three months of the year, but expects the effects to show up more in the coming months.
Sales of heat-not-burn consumables Heets in duty-free shops declined by over 80% and the company expects "similar trends to continue until travel starts to recover," according to chief financial officer Martin King.
PMI's total net revenues were $7.15bn, up 6% against the same period of 2019, when the company achieved a net revenue of $6.75bn.
Revenues from the company's reduced-risk portfolio for the first quarter of the year amounted to $1.55bn. This is an increase of 25% against the same period of 2019.
Based on trends since lockdown measures were introduced in various markets around the world, the rate of new IQOS user acquisition is expected to be, on average, around 50% lower than previously anticipated for as long as restrictions are in place.
Momentum will grow again
Behind this critical figure, there are difficulties in engaging with smokers during lockdown restrictions and the obvious fact most retailers are currently closed.
Nevertheless, the tobacco manufacturer is confident that the strong momentum on IQOS user acquisition before the COVID-19 crisis will pick up again as soon as global restrictions ease.
In Q1 2020, PMI's heated tobacco shipments were up 45.5% year on year to 16.7bn units. In the last quarter of 2019, the company shipped 17.1bn units.
Market share of heated tobacco units in IQOS markets, excluding the US, was up by 1.9 percentage points to 6.6%.
Total IQOS users reached 14.6m in the first months of 2020, of which approximately 10.6m are former smokers.
PMI does not stock shortages in the near future, with the large majority of its manufacturing facilities globally currently operational, including all heated tobacco unit factories.
Based on current average sales trends across markets, PMI has enough heated tobacco unit stocks to last more than two months, it said.
What This Means: Despite good figures for PMI's reduced-risk portfolio in the first quarter of 2020, the company is looking at a much darker forecast for the rest of the year.
The expected critical reduction in the number of new IQOS users is likely to have direct market implications and could potentially affect planned launches in new markets.
PMI had expected 2020 revenues to be in line with 2019-2021 growth targets of 5-8%; this might have to be revised in the current extraordinary circumstances.
– David Palacios ECigIntelligence staff and Beatrice Bedeschi contributing writer