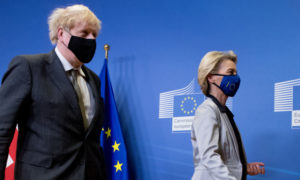 After the eleventh-hour agreement of a Brexit deal on Christmas Eve, one of the first key issues for the go-it-alone UK to tackle will be the review of the Tobacco and Related Products Regulations (TRPR).
A few days ago, public health experts asked the government to include tougher rules on the advertising and labelling of tobacco-alternative products in the post-Brexit UK revision of the 2016 TRPR.
Tobacco giants Philip Morris International (PMI), British American Tobacco (BAT) and Imperial Brands, which all have interests in novel products, declined to comment to TobaccoIntelligence about the Brexit deal.
Last month, Imperial said the group estimated at £75m the additional costs it would incur in the event of a no-deal Brexit. A few days ago, sources revealed that Imperial planned to reduce its product range in Northern Ireland as a result of Brexit. No further details of the company's plans have been disclosed.
However, the British vaping industry has broadly welcomed the agreement. UK Vaping Industry Association director-general John Dunne told TobaccoIntelligence: "How successfully government seizes the public health potential of vaping will be a key early test for the post-Brexit settlement."
The British government said it was the biggest bilateral trade deal signed by either side, covering trade that was worth £668bn in 2019.
"The deal is fantastic news for families and businesses in every part of the UK," a government spokesperson said after UK prime minister Boris Johnson and EU Commission president Ursula von der Leyen (pictured) announced the deal that will shape the post-Brexit relationship between Britain and Europe.
What This Means: Today's announcement that a UK-EU deal had been achieved is in a sense a formality since the text agreement – believed to run to more than 2,000 pages – still needs to be ratified next week by the UK Parliament and all 27 EU member states.
The deal arrives just a week before the end of the transition period, until which point EU law continues to apply in the UK.
– David Palacios TobaccoIntelligence staff
Photo: European Commission