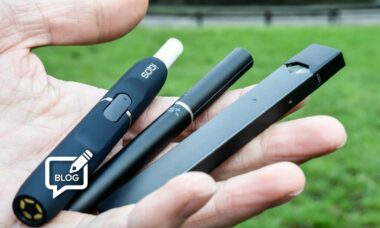 Some vapers appear to be switching to heated tobacco products, but vaping and heated tobacco should still be viewed as complementary alternatives that will lead to a reduction in overall smoking rates rather than competitors that could hurt each other and leave conventional cigarettes untouched, according to a public health expert.
A recent survey conducted by TobaccoIntelligence in the Italian market where heated tobacco – also known as heat-not-burn (HnB) – takes 15% of the national tobacco market volume found half of respondents came from the vaping world, suggesting that the impact that heated tobacco use has on e-cigarette consumption may pose a threat to the vaping industry.
"Our findings on the negative impact that heated tobacco use has on e-cig consumption are consistent with the results of our 2020 Greece survey, in which several respondents stated that using heated tobacco resulted in them reducing or stopping using e-cigs. This suggests that this negative impact of heated tobacco on vaping could be a global trend, and that it may pose a threat to the vaping industry around the world," the report said.
But it also found that 75% of heated tobacco users in Italy are former regular tobacco smokers, while only a quarter are still regular tobacco users (the proportion of current heated tobacco users who have never smoked tobacco is minimal).
This remained the key point, according to Riccardo Polosa of the University of Catania. He told TobaccoIntelligence that for some smokers, e-cigarettes do not represent the definitive solution to replace once and for all the conventional cigarettes. In these cases, many may try heated tobacco products.
"For those who do not want or are unable to quit smoking, the new technologies that deliver nicotine without combustion represent a real revolution," he added.
Evidence shows HnB helps smokers quit
Polosa does not believe that the expansion of heated tobacco may pose a threat for vaping products, pointing out that the two worlds integrate and complement each other and choosing one or the other product is "simply a matter of taste".
For example, the survey found that heated tobacco users who used to be regular e-cig users did not vape for a long time – on average spending less than a year using e-cigs on a regular basis. On the other hand, the respondents who regularly use both HnB and e-cigs have been vaping for more than two years on average.
"It is notable that most current heated tobacco users who used to vape on a regular basis claim that taking up HnB was an important reason for them to quit vaping," the TobaccoIntelligence survey said. "They started using heated tobacco because other ways to quit smoking hadn't worked for them, this being the second most popular reason they list for trying it. For HnB users who are current vapers or who have never vaped, this reason is not as popular."
Polosa added that the findings in TobaccIntelligence's Italian survey confirms recent evidence on the usefulness of heated tobacco products in stopping smoking.
Last year, research conducted on the prevalence and reasons to use heated tobacco in 27 EU member states as well as the UK found that use was "significantly higher among younger people and current or former smokers".
This suggests that heated tobacco may play some role in replacing conventional cigarettes. However the "serious interests of the tobacco industry in these products" means significant scrutiny and additional EU as well as national regulations are still warranted, the authors said.
Likewise, a study conducted in 2020 about the awareness and use of heated tobacco products among adult smokers in six European countries in 2016 and 2018 found that the awareness of such products increased from 8% to 17% between the two waves. The survey was conducted among smokers aged 18 or older from Germany, Greece, Hungary, Poland, Romania and Spain.
Philip Morris International (PMI)-funded Foundation for a Smoke-free World has recently released the Global Trends in Nicotine report and found that alternatives have taken a share of the total value of worldwide retail sales from combustibles over the past three years, with heated tobacco having shares of 2.4% in 2020.
Although conventional cigarettes remain the dominant tobacco product category – despite a decline of 5% – continued interest and investment in alternatives means they are predicted to continue to eat into conventional combustibles' share of the market, as the report showed.
– Antonia Di Lorenzo TobaccoIntelligence staff
Photo: Vaping360