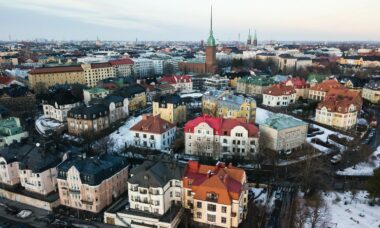 The legality of nicotine pouches in Finland will not be reversed, the newly formed government has confirmed.
There had been some uncertainty about whether the recently sworn-in coalition would continue with amendments to the regulations of the Finnish Tobacco Act that would have allowed the sale of nicotine pouches in the country from its entry into force by 2024.
Retailers of nicotine pouches will need a licence, and the nicotine content will be limited to similar levels as in neighbouring countries. According to the government, only flavours intended for adults will be allowed.
Tax changes could bring in big revenue
Nicotine pouches and other nicotine-containing products that are not subject to excise duty under the Tobacco Act may be subject to tobacco taxation – similar to nicotine-containing e-cigarette liquids.
"The tax level will be scaled so that it does not significantly divert consumption away from taxable sales and contributes to reducing the harmful effects of smoking," the new government said.
The government is examining taxes on tobacco products in order to increase revenue by at least €150m. Bringing nicotine pouches within the scope of the Tobacco Tax Act is expected to account for one third of this amount, at €50m.
Welcoming clear rules and regulations
The conformation as part of the new government programme brings some clarity to the fate of nicotine pouches in Finland, which has been quite the rollercoaster ride.
In April the Finnish Medicines Agency (Fimea) permitted the sale of nicotine pouches because the situation in the market had changed so much and Fimea could not continue to classify strong nicotine pouches as medicine.
Based on pharmaceutical legislation, products cannot be classified as medicine solely because they contain nicotine when there is no medicinal purpose. Therefore, Fimea decided it was no longer able to interpret nicotine pouches as medicine. The change was also supported by European legal decisions and interpretations of similar situations.
Then, on 21st June, the sale and placing on the market of nicotine pouches containing 20 mg or more were banned, a decision made by the Finnish Safety and Chemicals Agency (Tukes).
Some health organisations are still concerned
Finnish public health organisations have been worried about the unclear regulatory status of nicotine pouches.
Now that the government has made its stance, the Cancer Society of Finland has expressed some concerns about the new policies.
The society's head of public relations, Sini Terävä, agreed with the tax changes as well as regulating nicotine pouches as part of the tobacco law. "However," she said, "the government decided to allow nicotine pouches, even though the alternative would have been to treat them like snus."
The sale of snus has been prohibited in Finland since 1995.
– Jessica Suni TobaccoIntelligence contributing writer
Photo: Julius Jansson