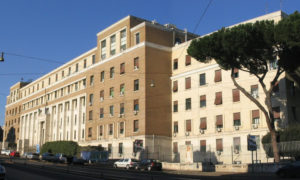 The reduced-risk potential of IQOS compared with combustible cigarettes cannot be ascertained, according to Italy's Ministry of Health.
This is one of the conclusions from an inquiry conducted by the National Institute of Health (Istituto Superiore della Sanita, ISS), the ministry's technical and scientific department for research and advice on public health. It comes in a recently published report on "Prevention and control of smoking".
The research into IQOS stems from an application by Philip Morris International (PMI) in 2018, hoping to obtain certification for IQOS and its related Heets cartridges as reduced-risk products.
However, the documentation presented by PMI did not enable the risk reduction potential of the heat-not-burn (HnB) system to be established by comparison with equivalent usage of traditional combustible products, the ministry said.
'Additional evidence'
The report considered "impact on smoke-related mortality and illness and impact on non-smokers and ex-smokers". It said that overall the new HnB technology represented a "matter of concern for public health" and highlighted a need for more independent studies to evaluate its potential.
Specific concerns the ISS said required further investigation included the fact that some Heets contain menthol, and the possible addictiveness of heated tobacco.
Tommaso Di Giovanni, PMI's vice-president of global communications, told TobaccoIntelligence: "It is regretful that our voluntary submission to the Italian health authority is being used by an ideologically-driven American special interest group to confuse smokers and the public at large."
PMI said it planned to submit a new application to the Italian authorities "to clarify the questions raised by the decision and further strengthen our application with additional evidence that has become available". It added: "This is part of normal interactions and dialogue between a company and a health authority as the evidence evolves."
Umberto Roccatti, president of the Italian vaping industry association ANAFE, told TobaccoIntelligence that he did not expect "a specific impact on the market from the ministry's position, which by the way has not changed".
What This Means: The Italian health ministry's "inconclusive" report into IQOS comes at a time of increasing popularity for heated tobacco in the country.
Official figures say sales of HnB products totalled 3,295,906 kg in 2019, more than twice the 2018 figure of 1,522,169 kg, making them the third most popular tobacco product in Italy after combustible cigarettes and rolling tobacco.
– Beatrice Bedeschi TobaccoIntelligence contributing writer
Photo: Wikimedia Commons