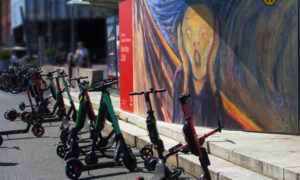 Snus is booming in popularity in Norway and Denmark – especially among the young – while cigarette-smoking appears to be losing its appeal fast. Official figures from Norway show daily snus users now substantially outnumbering those who smoke every day.
They show a drop in the number of daily smokers in the country in 2019, along with an increase in those using snus every day as a means to quit combustible tobacco.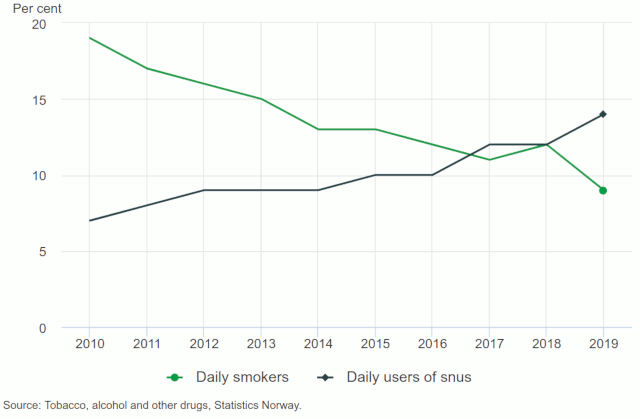 And that while in 2018 the number of daily smokers equalled that of daily snus users, those numbers diverged sharply last year, when, according to Statistics Norway, just 9% of Norwegians aged 16-74 smoked daily and 14% used snus.
That's a stark contrast with 2010, when daily snus users made up 7% of the adult population, while 19% smoked.
Researcher Karl Erik Lund from at the Institute of Public Health regards this marked change in the nicotine market as good news.
"There has been a rapid shift from life-threatening incineration products such as cigarettes and rolling tobacco to various varieties of snus. The proportion of smokers has halved in ten years," Lund told European Tobacco Harm Reduction Advocates. "Twenty years ago, every third Norwegian smoked daily. According to the Directorate of Health, Norway is the country in the world that has had the steepest decline in the number of daily smokers."
Popularity among young people
The use of snus among Norwegians aged from 25 to 34 has been increasing over recent years and in 2019 24% of them used the product daily.
Meanwhile, combustible tobacco has declined in popularity, with only 4% of young people smoking daily last year.
In neighbouring Denmark too, the use of snus among young people – and more especially among high school students – is gaining popularity, according to the Danish National Institute of Public Health.
The figures show that 11.3% of Danish students used snus daily last year – up from 1.9% in 2014.
Morten Grønbæk, director of the country's Institute of Public Health, told Danish media: "It is very worrying that we are seeing this increase in the consumption of snuff. Snus is by no means a harmless product."
– David Palacios TobaccoIntelligence staff
Photo: Tor Einar Aslesen