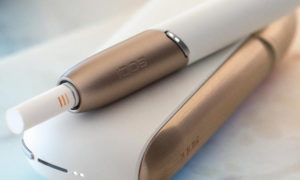 Philip Morris International (PMI)'s earnings were up slightly in the first quarter of 2021, boosted by a 38% increase in heated tobacco unit volume in Europe.
The New York-based manufacturer announced today to investors that it posted net revenues of $7.5bn in the quarter, up 6% on the same period a year ago, with smoke-free products accounting for 28% of total net revenue. Global shipment of heated tobacco units was up by 29.9% at 21.7bn units.
In Europe, the tobacco manufacturer shipped 6.4bn Heets for Iqos in the first quarter of 2021, up from 4.6bn in the same period of 2019. According to the company, Germany and Italy are behind the good numbers.
Eastern Europe (up 29.1%), and East Asia and Australia (up 28.3%) also performed very well.  In Latin America and Canada, the growth of the category was much lower (2.8%).
The company did not provide any information about the performance of its smoke-free portfolio in the US.
PMI said that global market share for Heets – excluding the US – was up by 1.7 points to 7.6% in Q1. It also revised its full-year 2021 guidance from 4-7% to 5-7% due to the momentum of its heated tobacco portfolio.
But according to the forecast, the company's global cigarette and heated tobacco unit shipment volume could decrease by the end of the year by up to 2%.
PMI expects to produce between 95bn and 100bn heated tobacco units in 2021, slightly up compared to a previous range of 90bn to 100bn units.
The manufacturer recently said it was aiming to produce between 140bn and 160bn Heets a year by 2023.
What This Means: With its overall performance increasingly reliant on heat-not-burn (HnB) rather than combustible tobacco products, PMI seems optimistic for the year and forecasts that "there will not be a return to the depressed consumption levels of the second quarter of 2020".
For the second half of 2021, the company expects an increase in commercial investments of around $300m to $400m.
– Antonia di Lorenzo TobaccoIntelligence business correspondent