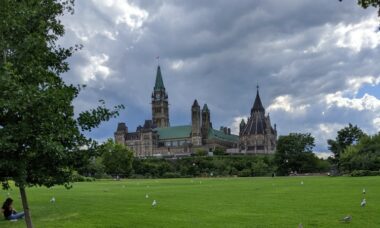 Canadian anti-smoking groups are calling on the federal government to suspend sales of nicotine pouches nationwide until regulations can be drafted to govern their sale and marketing.
Speaking during a news conference on Parliament Hill, six groups said the only way nicotine pouches should be sold until rules are in place is with a doctor's prescription, and that they want to see a temporary moratorium on new nicotine pouch products being approved.
"It's going to become a very significant problem unless action is taken," Rob Cunningham, senior policy analyst with the Canadian Cancer Society, told reporters. "The good news is it is possible to take action very, very quickly."
The call comes after the first nicotine pouches were authorised for sale in Canada in July as a nicotine replacement therapy (NRT). Because the pouches contain only 4 mg of nicotine, they were able to get Health Canada authorisation through the federal government's natural health product regulations.
Other products containing nicotine, such as cigarettes and vaping products, are regulated under the Tobacco and Vaping Products Act, which has strict requirements governing how the products are sold and marketed – particularly to youth.
Nicoventures Trading, which obtained the authorisation, and Imperial Tobacco Canada are both tied to British American Tobacco (BAT).
Claims of aggressive marketing to young people in particular
In October, Imperial Tobacco Canada launched Zonnic nicotine pouches as "a new over-the-counter, tobacco-free smoking cessation product in a flavoured pouch", touting it as "the first product of its kind to be authorised for sale by Health Canada".
The pouches come in colourful containers with three flavours available – Chill Mint, Berry Frost and Tropic Breeze. A video on the company's website features attractive young people working out or partying.
An interactive map lists thousands of convenience stores, fuel stations and other locations where they can be purchased in every province, except Quebec where nicotine replacement products can only be sold in pharmacies.
Anti-smoking groups say the company has been aggressively marketing its nicotine pouches with the kind of attractive lifestyle advertising that is prohibited in Canada for tobacco and vaping products.
"These products are attractive to youth, they come in appealing flavours, they come in containers that could well hold candy," said Cunningham. "Of course youth are going to be interested."
He added: "Imperial Tobacco is using classic lifestyle advertising that we saw for cigarettes and is promoting these addictive products in places where youth are exposed such as convenience stores and Instagram."
Worries youth can purchase products with no consequence to sellers
The groups say there are no rules to stop the nicotine pouches from being sold to under-18s or against giving out samples, which is also prohibited for tobacco and vaping products.
"A retailer that sells to minors will face no offence, no charges and no fines," said Cunningham. "It simply boggles the mind that Health Canada has made it legal for flavoured nicotine products from Imperial Tobacco to be sold to children."
The health campaigners are concerned that other companies will soon join Imperial Tobacco, seeking authorisation for their own nicotine pouches and that the sale of pouches will increase before rules can be drafted.
The groups are calling for health minister Mark Holland to use his powers to suspend the sale of nicotine pouches in Canada and for the government to allow them to be sold by prescription only.
Cynthia Callard, executive director of Physicians for a Smoke-Free Canada, said: "We're not calling for a ban on these products. What we're calling for is a suspension of their sale until measures can be put in place to protect children."
Callard said the regulatory gap can be closed. "Provincial governments can impose restrictions on retail, the federal government can require adequate packaging, but it is going to take time."
Health Canada and Imperial say products are for adults only
Health Canada said the 4 mg nicotine pouches were approved as a natural health product "as a nicotine replacement therapy for smoking cessation".
"They are licensed for people 18 years and older and should not be sold to minors," Health Canada spokesperson Charlaine Sleiman told TobaccoIntelligence. "Marketing directed at youth would be deemed deceptive advertising and could trigger post-market compliance actions."
Sleiman said questions such as where the pouches are sold and age-related restrictions on sale fall under provincial – not federal – jurisdiction. She added that the company has to file annual reports to identify any youth appeal or misuse of the product.
Eric Gagnon, vice president, legal and external affairs with Imperial Tobacco Canada said Zonnic complies with regulatory requirements and has gone even further.
"Although there are no minimum age requirements for the purchase of an NRT set out in applicable legislation, we have instructed retailers to keep Zonnic behind the counter in convenience stores and require proof of age before purchase," he told TobaccoIntelligence. "In addition, we support implementing regulations that restrict the sale of these products to adults only."
Gagnon said Zonnic is a continuation of the company's efforts to offer less-risky alternatives to smoking and to help smokers quit.
– Elizabeth Thompson TobaccoIntelligence contributing writer
Photo: Sarah Baxter