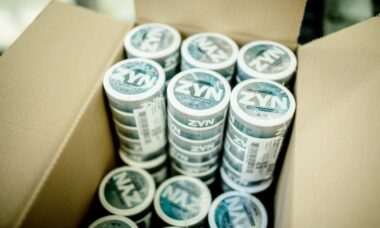 Swedish Match's smoke-free portfolio continued driving sales as well as increased operating profits in the first quarter of 2022, compared with the same period in 2021.
The Scandinavian group attributed this positive performance to "strong momentum for the US smoke-free business," where Swedish Match's nicotine pouch brand Zyn's shipment volume grew as much as 35%, with a positive impact on sales and profit.
While overall sales were up 10%, US sales increased 13% to $207m in this year's first quarter, compared with $183m in the first quarter of 2021. Profits also rose 10% to $104m, compared with $94m in the first three months of last year.
"Many of our businesses demonstrated continued strength and momentum during the first quarter of 2022, with nicotine pouches leading the way," said Swedish Match CEO Lars Dahlgren, adding that Zyn pouches' performance was particularly encouraging given the fierce promotional competition they face from one of their main rivals in the US market.
"Zyn continued to demonstrate market share resilience and its loyal franchise, once again increasing market share," the group said in a statement.
Swedish Match said that its traditional smoke-free products, such as moist snuff and snus, also performed positively in the US, while the chewing tobacco business declined for reasons "consistent with historical category dynamics".
Flat business in Scandinavia does not discourage
In Scandinavia, sales remained stable, with only 2% growth, while operating profits declined 12% year on year. The company attributed this decrease to low administrative expenses, income of a one-time nature, and other favourable factors that impacted its financial performance in last year's first quarter but not in the same period this year.
Nonetheless, Swedish Match gained market share both on a year-on-year and a sequential basis relative to the most recent quarter, the company added.
"I am encouraged by the fact that despite those impacts, Scandinavian smoke-free volumes and sales grew relative to the prior year," Dahlgren said.
While smoke-free remains Swedish Match's main business, the company's cigar sales, limited almost exclusively to the US, declined 16% to $125m, compared with $149m in last year's first quarter. But in comparison to other tobacco businesses, the company said it was largely unaffected by the war in Ukraine beyond electing to suspend the sale of its lighters in Russia.
What This Means: Swedish Match's positive performance in the US smoke-free market is of particular interest, as the group announced its interim results hours after receiving a $16bn takeover offer from tobacco giant Philip Morris International (PMI), currently pending approval by shareholders after the Swedish Match board asked them to accept it.
PMI said in a statement that the takeover would represent an opportunity to "directly enter and compete in the large, attractive and growing US smoke-free market" while it aims to become a predominantly smoke-free company by 2025.
– Tiziana Cauli TobaccoIntelligence staff
Photo: Swedish Match